---
DEDICATED ARTISTS
of southwest florida inc

FUND RAISING - Contributes to Success.
• Support "Gifts from the Heart"
• Support the STORE open from Thanksgiving thru December 11th
• Support ZOOM Seminar Subscriptions

Saturday, December 12, 2020
9:00am
Dimensional Art …with Gerri Zoppa

Welcome Back "Snowbirds"!
have fun …while remaining safe
DASF follows CDC Guidelines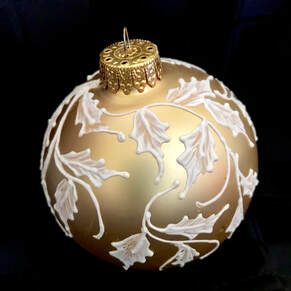 DIMENSION!
Gerri is an artist who creates free hand, one of a kind works of art such as this ornament. They are very popular in the retail shops around holiday time.

Gerri will be sharing this technique with you. Margot Clark is the creator of a patented glass texture medium called MUD. While ornaments make beautiful and extraordinary gifts, dimensional paste is not limited to ornaments.

You will be supplied one FREE surface to work on but should also bring other small objects to decorate. Small basecoated wood ornaments, glass, metal containers, or even china plates are some "creative surfaces" suggested.

Welcome Back!

---
Photo Gallery from the November Holiday Poinsettia Meeting
DASF practices social distancing while painting. Thanks to Jackie for breaking this lovely poinsettia down into baby steps so we had some great results. Thanks, Jackie, for some amazing directions!


RESOLVED! I will paint every monthly program and those online to build my painting skills!

What a wonderful way to build your painting skills. With a group of excellent teachers leading members through a different program every month, follow the New Year's resolution and you will be a much better painter with a group of great painting friends. Guests are always welcome and are the secret ingredient to a STRONG Club.
Remember GUESTS ARE WELCOME!


The DEDICATED ARTISTS and Who we Are
. . .Read on to learn about us, our programs, and our seminars . . .

The DEDICATED Artists of Southwest Florida Inc
(DASF)
are local members of a local CLUB with members from Naples, Bonita Springs, Fort Myers, Lehigh Acres, Cape Coral, North Fort Myers, Punta Gorda, Port Charolette, North Port, and Canada, too. And we have many snowbirds who look forward to their winters in Florida because of our excellent monthly programs. Our objective is to promote the art of painting for those who wish to learn to paint in all mediums. It is all about having fun and making friends and supporting our community through Memory Boxes, suitcases, an annual scholarship and more. We welcome all ages and all levels of abilities from those with no experience to the accomplished artist!
Meetings in 2020 will offer a great variety of designs. Visit us at a general meeting as a guest. We welcome you to attend two meetings before you are expected to join the Club. We meet the second Saturday of every month. Dues for DASF are bargain priced at only $40 per year - monthly meetings always includes a great painting project by one of our talented instructors. Meetings may include FREE surfaces and for special Member Appreciation meetings, DASF even supplies lunch. See the
Meetings Menu
above for what is being offered for 2020. Program descriptions for the coming year will be available beginning in December.
Meetings begin with a Social Time and light refreshments at 9:00am followed by the meeting at 9:30am. Each meeting is followed by a
brown bag lunch
and a painting program. Our CLUB is also philanthropic supporting the Harry Chapin Food Bank, the Memory Box Project, Suitcases for Foster Kids, an annual scholarship and so much more.
PLEASE: Find a map to the meeting near the top of each program page. Click on the word "map" and you will be directed to the Cape Coral Art League.