Decorative Artists and Who we Are
. . .Read on to learn about us, our programs, and our seminars . . .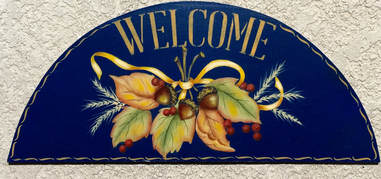 Acorns, wheat, cranberries and leaves – what a beautiful piece designed by Suzanne Mikulka and taught by Karen Close!
There are several theories of how the berry was named. Germany and Dutch settlers named the berry "crane-berry" because it appeared to be the favorite food of cranes or the blossom resembles the head and neck of an English crane.
Today they remain a favorite food at holiday time. However you spell it, this great design is ripe with painting skills from how to turn a leaf, and paint S-strokes to painting beautiful ribbons. We will also review how to use stencils.
Karen will help you do all of this and you will complete an excellent, easy to store piece for your home. The MDF board remains available at the September meeting for $3.50 or you can use another surface of your choice.
RESOLVED! I WILL PAINT EVERY MONTHLY PROGRAM IN 2017. . .
What a wonderful way to build your painting skills. With a group of excellent teachers leading members through a different program every month, follow the New Year's resolution above and you will be a much better painter with a group of great painting friends.
A click on the photo above will take you to the project details for this month.
GUESTS ARE WELCOME!
---
---
Who We Are . . .
The Decorative Artists of Southwest Florida
(DASF)
are local members of the international Society of Decorative Painters
(SDP)
. Our objective is to promote the art of painting for those who wish to learn to paint in all mediums. We welcome all ages and all levels of abilities from those with no experience to the accomplished artist!
Meetings in 2017 will offer a great variety of designs. Visit us at a general meeting as a guest. We welcome you to attend two meetings before you are expected to join the Chapter. We meet the second Saturday of every month. Dues for DASF are bargain priced at only $20 per year - that is less than $2.00 for a monthly meeting that always includes a great painting project by one of our talented instructors. See the
Meetings Menu
above for what is being offered for 2017.
Meetings begin with a Social Time and light refreshments at 9:00am followed by the meeting at 9:30am. Each meeting is followed by a
brown bag lunch
and a painting program.
PLEASE: Find a map to the meeting near the top of the program page. Click on the word "map" and you will be directed to the Cape Coral Art League.

AUGUST MEETING PHOTOS showing members painting the "Paper Moon" monthly project