Decorative Artists and Who we Are
. . .Read on to learn about us, our programs, and our seminars . . .



Whether calling us with its beauty or creating fear with its power, the Gulf of Mexico is a force of nature that has fascinated man since the beginning of time.

Capture this sea and sky your way as Martha Stevenson leads us in this beautiful painting and shares her knowledge that will help you create thunderheads or a misty morn. 16x20 canvases are free for DASF members participating in the program and are available ($2) for non-members.


RESOLVED! I WILL PAINT EVERY MONTHLY PROGRAM IN 2017. . .

What a wonderful way to build your painting skills. With a group of excellent teachers leading members through a different program every month, follow the New Year's resolution above and you will be a much better painter with a group of great painting friends.

A click on the photo above will take you to the project details for this month.
GUESTS ARE WELCOME!



---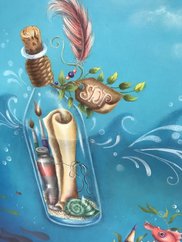 OCEANS OF COLOR - CONVENTION
SDP International Conference & Expo celebrated 45 years of painting May 16-20, 2017 when painters gathered to learn, to paint with old friends, to make new friends, and to shop. Each day featured an event starting with a Meet & Greet followed by the Chapter Gathering, the Annual Meeting, an ADP/CDA/MDA Reception, The Expo, and finally the Annual Banquet.

Enjoy the photos. Daytona Beach will be the location for the 2018 Conference. Start saving now!

---
Who We Are . . .
The Decorative Artists of Southwest Florida
(DASF)
are local members of the international Society of Decorative Painters
(SDP)
. Our objective is to promote the art of painting for those who wish to learn to paint in all mediums. We welcome all ages and all levels of abilities from those with no experience to the accomplished artist!
Meetings in 2017 will offer a great variety of designs. Visit us at a general meeting as a guest. We welcome you to attend two meetings before you are expected to join the Chapter. We meet the second Saturday of every month. Dues for DASF are bargain priced at only $20 per year - that is less than $2.00 for a monthly meeting that always includes a great painting project by one of our talented instructors. See the
Meetings Menu
above for what is being offered for 2017.
Meetings begin with a Social Time and light refreshments at 9:00am followed by the meeting at 9:30am. Each meeting is followed by a
brown bag lunch
and a painting program.
PLEASE: Find a map to the meeting near the top of the program page. Click on the word "map" and you will be directed to the Cape Coral Art League.