July Program
Saturday, July 8, 2017
Meeting at Cape Coral Art League (click for map)

Acrylic
SUMMER FORECAST
with Martha Stevenson


Due to a student artist with a serious allergy to certain painting products, we are asking that you refrain from bringing these with you into the classroom.
Turpinoid Natural by Martin Weber
Any Krylon product
---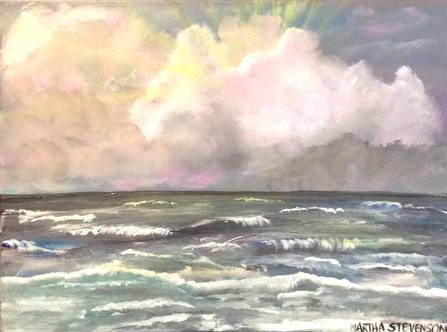 "I must go down to the seas again, to the lonely sea and the sky" are words a century old describing how the power of the sea and the sky has fascinated man since the beginning of time.

Such power is captured here in Martha's painting where the sky has darkened and shows the colors of a setting sun and the thunderheads that roll in to Southwest Florida with the afternoon sea breezes so characteristic of summer afternoons.

Martha will help you capture this power with your brush. We all look forward to Martha's programs when she shares so much of what she has learned through her continuous exploration of painting. Improve your painting of nature with this exciting picture!


GROW YOUR CHAPTER …bring a guest. Guests are always welcome!



---
SUPPLY FEES:
Palette/Instructions $5.00
Please try to bring correct currency so we don't have to make a lot of change
SURFACE:
​FREE: This program includes a FREE 16x20 canvas. Canvases are free for DASF members participating in the program; 16" x 20" canvases are available for non-members for $2.00

SURFACE PREPARATION:
None Required
Since there is no pattern, you can bring a different size canvas but rectangular shapes work best
PALETTE:
If following colors are not available feel free to substitute with something similar or even just something you think would be pretty. You may not want Magenta in your sky.
Black
White
Quinacridone Magenta
Cadmium Yellow
Cadmium Red
Phthalo Blue
Payne's Grey
Phthalo Green
Burnt Sienna
Burnt Umber
Yellow Oxide
Dioxizine Purple
BRUSHES:
Bring your favorites so that you can 'play' and discover how your brushes work
1 inch Painter's Brush (available @ WalMart in the Paint Section/say "Good" - not artist section - a couple of dollars)
3/4 inch (suggestion: Royal Taklon Soft Grip available @ http://www.artistpaintbrush.com/royal-soft-grip-golden-taklon-glaze-wash-brush-artist-paint-brush-sg700-34-p-2572.html
Natural Bristle Brushes (scumbler or stencil brush)
Filbert #8 & #10 (Simply Simmons Extra Firm, Michi's may carry them or http://www.thebrushguys.com Part No. SIM255367008 and SIM255367010)
Fan Brush - if you would like to try
Liners
Rounds - various
Angle Brushes - various
SUPPLIES:
Standard Painting Supplies
Ruler or Triangle (like for geometry)