JUNE MEETING
Saturday, June 11, 2011


Scarlet Hibiscus Table Runner with Judi Revercomb
"Paintin' Place Matlacha"


Acrylic Table Runner with Judi Revercomb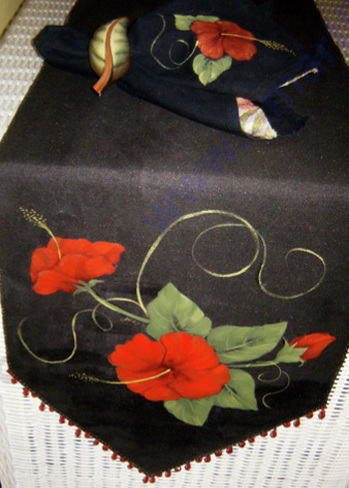 Judi created this wonderful piece for a fund raiser raffle for a local charity. Now she shares it with us. Painted on Roc-Lon and trimmed with some sparkling beads, this table runner will add elegance to any table you choose to lay it on. It is a Roz Stallcup pattern.


Make your fabric the length you need for your own table or as a beautiful gift for the table of someone who is special to you. The design also adapts to napkins and placemats. Did you notice the neat leaf napkin ring? Judi is creative and you can be, too!

Plan ahead and buy the Roc-Lon fabric using a cents-off coupon. The fabric is available at JoAnn's stores.


---
Supply List
Roc-Lon 14 inches wide x 46 inches long
(Your length can be as long as necessary but if narrower than 14 inches you will need to use the smaller pattern and bring smaller brushes.) Roc-Lon comes in 54 inch width and does not fray. It is available at JoAnn's for $5.99 a yard.
Acrylic Paints
Metallic Sequin Black, Plaid Folk Art to base background
(other paint is optional)
Metallic Inca Gold, for highlights
Avocado (A)
Avocado Dip (A)
Napa Red (A)
Tuscan Red (A)
Cadmium Orange (A)
Burnt Umber (A)
Faux Glazing Medium (A)
Brushes
#12 Filbert
#2 Liner
1/4 Shader
Usual Supplies
Tracing Paper
Transfer Paper
Water Basin
Etc.