Personal safety is the most important thing. Painters had an amazing SEMINAR taught by Margaret Riley while observing the CDC guidelines.

New Products: Make It – Take It
Art Supply Manufacturer's PRODUCTS
Meeting at Cape Coral Art League (
click for map
)
Saturday, June 13, 2020 10am - 1pm
…with Margaret Riley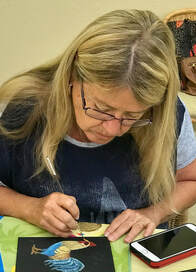 WHAT IS NEW IN 2020!
Experience new products with our new teacher Margaret Riley. She comes with decades of experience in the decorative arts industry behind her. She teaches, she reviews products, she publishes projects and articles. She is in the 'know' and this mini-seminar will help you know, too, about what is happening.

Start the new decade of 2020 with a modern twist on decorative painting. What a great value! What a delightful way to have a guide on the side as you learn to bring what's modern to your art.
You WILL leave a smarter painter.
YOUR CONFIDENCE WILL SOAR!

---
Cost:
$10 DASF or NDA members / $20 non-members
Scope
Some major companies will provide products, many that are new releases. Three different paint companies and two brush companies will be represented.
Engraving Art, Glass Etching, Woodburning, Easy Pouring with no mixing, stenciling, newest paint products, newest brushes and more are some of the products you will see demoed or get to 'play' with.

Cork Fabric and some of the "hottest" trims on the market come from another company.

Time to get excited! There will be lots to learn.
Palette
Students Need to Provide the Following…
Surfaces
(2) any Glass Jars, Pint/Quart Size (NO Writing) …bring from home OR DollarTree

(1) 4.5-inch Clay Flower Pot ...see HobbyLobby, HomeDepot, Lowes

(1) Plastic Cup, about 6-inches tall ...holds inverted clay flower pot while it drips
(3) Aluminum (NO holes in the bottom) Pie Pans …transport projects home

Bushes
#4 Round
#8 Flat
#12 Flat

1-inch Foam Brush …you will need 3
Supplies
Paper Towels
Water Basin
Foam Plates …you will need 6
Stylus
Scissors
Gloves (like Medical gloves) …you will need 3 to 4 pairs
Popsicle Sticks (provided)
Clothespins (provided)
Hot Glue Gun (provided)