SCHOLARSHIP ALERT!
Scholarship applications are due on April 15

March Program
Saturday, March 14, 2020
Meeting at Cape Coral Art League (click for map)

Watercolor
DUNES ON A CLOUDY DAY
(Painted Easter Egg EXCHANGE ...Sign-Up at meeting)
with Jackie Marth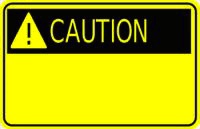 Due to a student artist with a serious allergy to certain painting products, we are asking that you refrain from bringing these with you into the classroom.
Turpinoid Natural by Martin Weber
Any Krylon product
---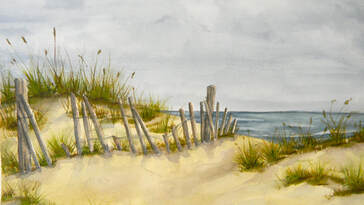 DUNES
What a beautiful reminder of lovely, lazy days spent at the shore.

Jackie will share her techniques for creating the contours of the dunes, the sea, and a cloudy sky. The weathered fence adds interest.

Surfaces are free to members PARTICIPATING in the program. To receive a FREE surface sign up with Madonna at least 10-days in advance of the meeting.
GROW YOUR CLUB …bring a guest. Guests are always welcome!


---
---
SUPPLY FEES:
Instruction Packet/Palette $7.00
...Please try to bring correct currency so we don't have to make a lot of change
SURFACE:
11x15-quarter sheet of Arches Watercolor Paper ...this fits a 16x20/frame
FREE: This program includes a FREE 11x15 surface. Watercolor paper is free for DASF members participating in the program; 11x15 sheets of watercolor paper are available for non-members for $2.00
SURFACE PREPARATION:
PALETTE:
Alizarin Crimson
Burnt Umber
Indigo
Sap Green
Ultramarine Blue
Viridian
Yellow Ochre
BRUSHES:
1-inch Flats (2) ...you will be using 2-brushes at the same time!
#6 Round
#0 Script Liner
#2 OR #3 Round (OLD small round to use for masking fluid)
SUPPLIES:
Backboard / Cardboard ...(larger than the 11x15 watercolor paper)

Masking Tape

Water Basin (2-containers)

Paper Towels
White Vinyl Eraser
Pencil

Tracing Paper
Wax-Free Transfer Paper
Bar Soap ...(

Just a little piece / used to soap brush making masking fluid easier to clean out)