Monthly Chapter Meetings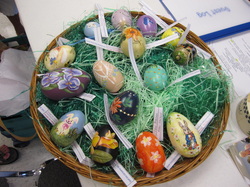 Easter eggs were exchanged at the April meeting. They were handpainted by chapter members.


---
Our monthly Chapter meetings are held on the second Saturday of every month January through December at the Cape Coral Art League, 516 Cultural Park Blvd. Cape Coral.


There is social hour at 9 am followed by a membership meeting at 9:30 am. Each meeting is followed by a lunch hour and then a painting program.


Also included at each meeting is a raffle drawing, members show and tell, signups for upcoming seminar registration, and displays of currently painted memory boxes for the hospitals and suitcases for the Childrens Network.

Our group is open to all ages from novice to professional. Residents of the Cape Coral - Fort Myers, Fla area are welcome to join us as are winter "snow birds".