April Seminar - April 16th, 2011
Reverse Glass Painting with Joyce Kostelak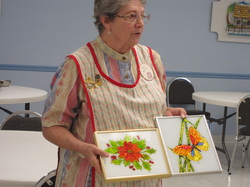 Reverse Glass Painting was the last of our spring seminars. If you missed this seminar, you missed an opportunity to learn a very attractive method of painting that many of our decorative painters have not tried before. It was a great seminar and a fun filled day as painters reminisced about the days of desks with inkwells and pens you had to fill with ink. Does that age us? Always got some on the side of your third finger from writing and guess what? …That still happens! None of the painters had worked with an old fashioned quill pen and India ink for many years. This was how we outlined of our grasses and butterfly.
The lesson in reverse glass painting…
After inking, we painted in the grasses and butterfly with oils. Then painted the background white. After the oil dried we added the foil behind the buterfly and grasses. That we had to do at home. We thank you, Joyce, for a great class. Watch for the finished pieces at the next show-and-tell.
Our snowbirds have flown north so look for another seminar in the fall.
---