November Program
Saturday, November 14, 2015
Meeting at Calusa Nature Center (click for map)

Painting on Glass Block
WINTER SNOW!
with Karen Close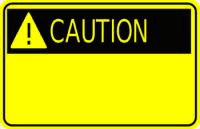 Due to a student artist with a serious allergy to certain painting products, we are asking that you refrain from bringing these with you into the classroom.
Turpinoid Natural by Martin Weber
Any Krylon product
---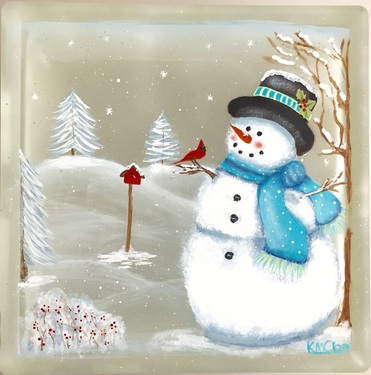 PAINTING ON A GLASS BLOCK
This wonderful winter decoration is a great way to enjoy the snow without getting cold. Who says you cannot build a snowman in Florida? With a glass block you can even add sparkling lights inside to enhance the excitement - you decide!
The Chapter has provided Glass Blocks to members who will be painting in November. Preparation takes time so you will need to prep your glass block following the directions below
---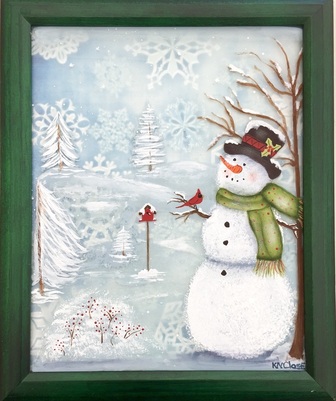 PAINTING ON A PHOTO FRAME
You may choose to to a similar painting on the glass in an inexpensive photo frame. How cute is this variation that Karen painted to demonstrate an alternative project that still teaches the skill of painting on glass. Karen placed a sheet of scrapbook paper in hers. You can see the pretty snowflakes peeking through. Prepare the glass following the same directions below.
---
This prep takes several days to complete due to drying time.
Step 1:
Use window cleaner to clean surface of block. Follow manufacturer's instructions to spray frost on front of block. Spray it outside, and then bring indoors to dry. **Note: Spray will become frosted as it dries. Don't apply too heavily. Allow to dry overnight.


Step 2:
If you are using ribbon to decorated the outer rim of the block skip this step. Apply 'snow' to outer rim of block with a plastic palette knife to give snow a 'billowy' look. Let dry at least 24 hours. I did 3 sides at once. You can do the bottom after the other sides have dried if you wish.


Step 3:
Spatter your block very lightly 1st with DecoArt Winter Blue, then with White paint. Don't overdo the 'snow'. Use whatever method of spattering you prefer. Let dry at least 1 hour as to not streak the dots.


Bring block to class wrapped very carefully as not to scrape the frosted glass. Bring a large terry wash cloth to lay block on while you are painting in class.


We will complete the clock at our November 14th meeting. See you there!
Karen


SUPPLY FEES:
Pattern/Photo/Palette inclusive for just $3
All items total $3.00. Please try to bring correct currency so we don't have to make a lot of change
SURFACE:
8x8 Glass Block supplied by DASF to all members. Non-members pay $5. If you did not reserve one through the chapter you can purchase at A.C. Moore for $5.
OPTIONAL ITEMS:
A. C. Moore also carries different types of bases designed for the glass block. Mini lights in blue, 70 count (found this color to work best for our block design) available at Dollar General Store.
PALETTE:
DecoArt Americana Colors: Bring your own Black, White, & Winter Blue. All other colors will be included in supply fee. If you need a list of the colors used please email Karen (rockycat54@yahoo.com) your request.
BRUSHES:
Angle sizes 3/8" & 3/4"
Plaid Scruffy Brush 1/2" - OR- Scumbler Brush #8 or #12
#1 or #2 Script Liner
#1 round
Good 10/0 Liner
OR your favorite brushes you like to use
SUPPLIES:
PREP SUPPLIES
Windex & Lint free paper towels
Rust-oleum Specialty Frosted Glass Spray #1903830 (Home Depot)
Optional: Aleene's True Snow or Glitter Snow/Duncan's Snow Accents (A.C.Moore)
Plastic Palette Knife


SUPPLIES FOR PROGRAM DAY
Paper towels
Transfer Paper (grey & white)
Tracing Paper
Water Bin
Stylus
Palette Paper Pad
AND any other supplies you normally use in class
WE WILL NOT BE USING A WET PALETTE