February Program
Saturday, February 9, 2013

Agate Jewelry for Member Appreciation Meeting
with Judi Revercomb
Student Artist highly allergic!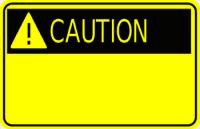 Due to a student artist with a serious allergy to certain painting products, we are asking that you refrain from bringing these with you into the classroom.
Turpinoid Natural by Martin Weber
Any Krylon product
---
Judi Revercomb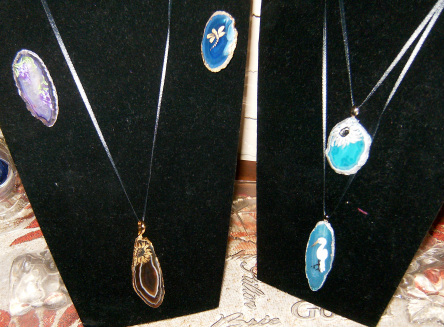 Judi is a Certified One Stroke Instructor with a studio in Matlacha. She has a website
www.PaintInPlaceMatlacha.com
where you can view her gallery and see her class schedule. Judi overflows with creative ideas such as this elegant agate jewelry that rivals that found in the finest shops.Make this beautiful jewelry for yourself or for a gift.
Agate is an ornamental stone typically banded in appearance. It is also known as one of the oldest known protection stones to encourage spiritual maturity, increase inner vision, give protection, security and safety, dissolve inner tension and strengthen rational thought.
Tiny quartz crystals are deposited layer by layer in cavities in ancient lava flows. The beautiful banded patterns occur because of different impurities. Agate is quite hard and these agate slices are cut and polished with diamond tools.
February is the month when your Board-of-Directors shows how much members are appreciated by presenting a special program that includes lunch. This will be a wonderful, enjoyable day for DASF members. And it is a great day to bring your guests to show us off at our best.
GUESTS ARE WELCOME!
---
SUPPLY FEES:
Pattern/Photo/Palette $2.00
Findings provided by DASF
Agate provided by DASF
Lunch provided by DASF
$2.00 total fee ...Please try to bring correct currency so we don't have to make a lot of change
DIRECTIONS:
This program is appropriate for beginning to intermediate painters.
SURFACE:
Agate; a natural surface made by Nature and supplied by DASF at the February meeting
BRUSHES:SUPPLIES:
Standard painting supplies