February Program
Saturday, February 11, 2012
MEMBER APPRECIATION MEETING

Florida Friends
by Julie Polderdyke
http://www.juliespalette.com/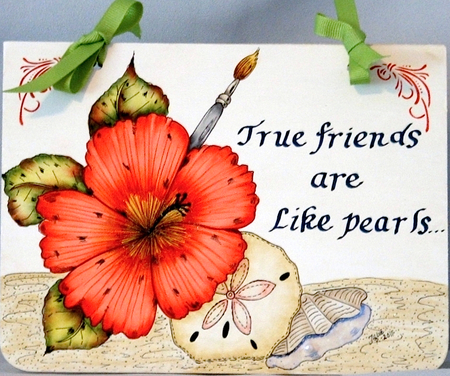 "True friends are like pearls..., precious and few."
Here at DASF we have been blessed with so many painting friends and in this program we will celebrate that. Julie Polderdyke has designed a
custom "forever-card"
just for us. With the hibiscus we see around us daily and the shells to remember our proximity to the Gulf, we will paint with our brushes and increase our talents.
Julie's program is a joy to paint. She will bring you a 2-piece wooden card that is already basecoated with the background color and the pattern will be traced on the wood so that you can go right to work with NO preparation!

You will receive a pen for inking, a pattern packet, the prepping of the wood, the wood, the paint used in class and the instruction.
DASF appreciates our members. All of this will be provided for a minimal fee of JUST $5 and that includes your lunch. What a deal! What a great day! What a wonderful teacher! You will certainly enjoy it all so please, come and paint with your friends.

SUPPLIES YOU BRING:
Stack of paper towels folded into squares




10-hole Bubble Palette




Regular Palette




Empty 2 oz paint bottle, filled with water




Regular Supplies



BRUSHES:
#4 Round, Loew Cornell #7020 Ultra Round




1/2" Angular Shader




5/8' Angular Shader




#1 Script Liner




Your other favorite brushes, just in case



---
What are Forever Cards?
Do you have a drawer full of cards that loved ones have given you and you hate to throw way because they are so pretty and heartfelt? Paint a Forever Card for your favorite people and give them only once. Every year on their birthday, etc. give them a call instead. Julie has been teaching for 25 years and these cards are her signature designs. They fit any occasion just by changing the lettering. The photo above shows the inside of the card for this February "Members Appreciation" Program.