May Program
Saturday, May 12, 2012

Linen & Lace Monogrammed Clipboard
Designed by Linda Hollander
Taught by Karen Close
Student Artist highly allergic!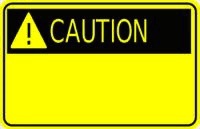 Due to a student artist with a serious allergy to certain painting products, we are asking that you refrain from bringing these with you into the classroom.
Turpinoid Natural by Martin Weber
Any Krylon product
---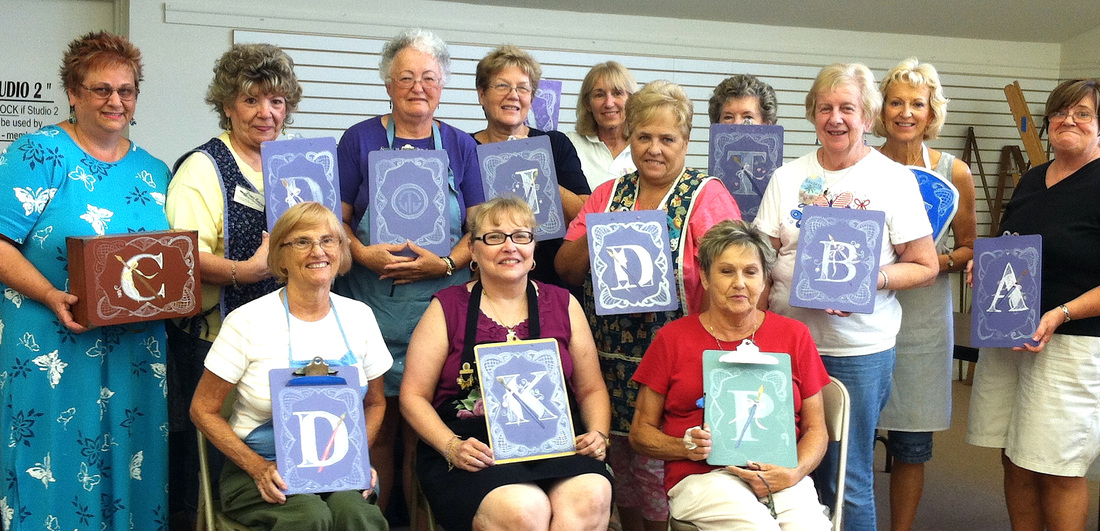 Brushes were busy as 20 members learned to make linen and lace. Clipboards, boxes, and plaques were some of the items painted. Every painter was a winner as teacher Karen Close ran frequent give-aways. Her program was fun!
Acrylic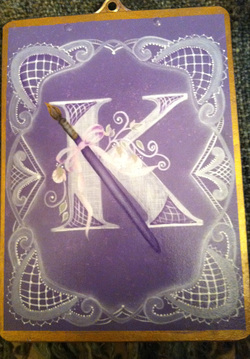 Have you always admired the laces of yesteryear? Here is an opportunity to paint a clipboard or similar sized surface with a beautiful lace design. Personalize it with your own initial or create one as a gift for a friend. Alphabet is provided with each packet so you will have your choice of initial, which you will then enlarge. This program is taught by Karen Close.

This battenburg lace design has had many names including Renaissance lace and mezzo punto. It is frequently seen in tablecloths and bridal gowns. Battenburg lace was first created when Queen Victoria of England named her son-in-law as the first Duke of Battenburg in the late 1800s. Every English Duke had his own lace pattern, so a new style of tape lace called Battenburg was invented and became quite popular.

Loops of tape are formed and then decorative filling stitches called bars or brides are used to fill the gaps. Painting the look-alike is definitely faster than stitching!

You will have a great time painting with Karen. Her classes are noted for being lots of fun. New painters, too, will be pleasantly surprised about how well Karen will help them master this technique. Karen is a beautiful painter and a good teacher.


GUESTS ARE WELCOME!



---
TIME SENSITIVE INFORMATION BELOW
Contact Karen ...
quickly for any of the following items

CLICK HERE to email Karen. All items ordered will be available for pick-up at April meeting
To order Pattern Packet (March 31st Deadline)

To order 1 bottle of DecoArt Violet Haze paint for your prep (cost + shipping) - Order NOW!

To reserve a clipboard holder - limited supply available ($2 each); first come, first serve
---
SUPPLY FEES:
Pattern Packet $5 (ordered from Linda Hollander, designer)
Palette $1 (DecoArt Paint)
Both items total $6.00. You may purchase the pattern packet only or also add the palette. Please try to bring correct currency so we don't have to make change. THERE IS NO COPYING OR SHARING OF THIS PROJECT - RE: COPYRIGHT LAWS.

SURFACE:
9x12 standard clip board (available in any office supply store such as Staples, Office Max, or Office Depot)
OTHER SUGGESTED SURFACES:
Paint Brush Box
Painting Tote Bag
Wooden Plaque (9x11)
Omit the paint brush and paint the picture for a friend
DIRECTIONS:
This program is appropriate for all level painters including beginners
BRUSHES:
10/0 Liner
#4 & #10 Shaders
#3 Round
1/4" Rake
1" Wash/Glaze
3/4" L/C Maxine's Mop
PREPARATION:
Violet Haze is needed to prep your board before the May meeting. Do you need to order Violet Haze? Karen will order a bottle for you (cost + shipping) if you let her know. You will get it at the April meeting where the Pattern Packet you ordered will also be available.

PALETTE:
These are DecoArts Paints
Baby Pink
Grape Juice
Silver Sage Green
Soft Lilac
Titanium White
Violet Haze
Dazzling Metallics Champagne Gold
Dazzling Metallics Emperor's Gold
SUPPLIES:
Standard painting supplies
Including stylus, transfer paper, tracing paper, & palette