Monday, November 14, 2011
10am - 4pm

Somethin' Fishy in Matlacha



Somethin' Fishy (Acrylic) with Suzanne Mikulka, CDA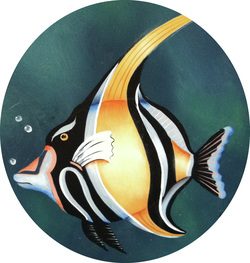 Matlacha (pronounced MAT-la-shay) is an "Old Florida" fishing village that is now well known for art galleries, seafood restaurants, cottages, and its brightly-colored buildings. If you have visited before you know its charm. If this will be your first visit, you will want to come back again and again.
This seminar is
an exciting opportunity
to paint at the most beautiful spot right on the water viewing Pine Island Sound. Dine at the Sandy Hook Fish & Rib House. Enjoy a beautiful November day. Paint with the talented teacher, Suzanne Mikulka, CDA. You will be glad you chose to join DASF for this outstanding day!
Somethin' Fishy is a beautiful fish design from Storm Strickland-Thompson that is painted with the Suz Mikulka flair. Storm's career was teaching art in Junior High but her passion was for art. Post retirement she has devoted time to become a better artist. Storm still lives in OK and gives us permission to use her design.
Cost: $35.00
Where:
Sandy Hook Fish & Rib House


4875 Pine Island Road




Matlacha, FL 33993




almost 13 miles from the usual meeting place in Cape Coral
Includes…
Seminar




Palette



Lunch served by the Sandy Hook Fish & Rib House

Students supply
Surface of Choice such as 16x20 Fredrix canvas panel, wood stool, or appliance screen




Usual Painting Supplies
---
LUNCH MENU Choose ONE Entrée

The meal includes salad with house dressing, warm bread and butter, your choice of entrée, key lime pie and coffee or tea.



Stuffed Flounder
a filet of flounder stuffed with a rich seafood stuffing topped with hollandaise

Pecan Chicken
chicken breast coated with honey sauce, crushed pecans, then baked