At the Beach
Acrylic

Saturday, March 19, 20169am - 3pm

Cape Coral Art League
(click for map)

At the Beach …with Gerri Zoppa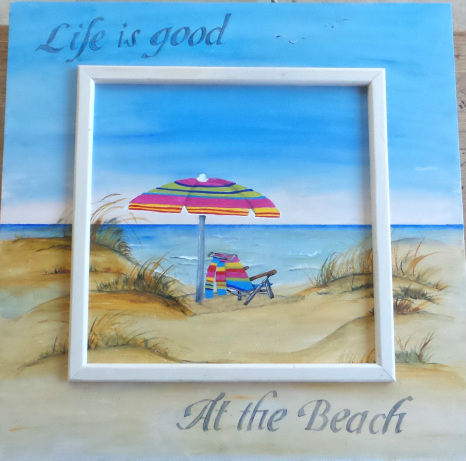 If you've lived in SW Florida or vacationed here, you know this scene! And you know just the place where you will display it…
This Roz Stallcup design is typical of the
landscapes, florals, and seascapes for which Roz is noted. After painting this fun piece as interpreted by our seminar teacher, Gerri Zoppa, you will want to try more designs that can be found in the series of books with the title, "Gran's Attic" by Roz Stallcup.

You will find Gerri is a talented teacher who will lead you to a successful and completed piece.
Gerri has found us a wood cutter who will supply these unique wood surfaces that appear as a painting inside a frame. She will make these available to seminar painters for a
very
reasonable cost. Come paint with us to renew friendships or make new friends. Decorative painters are a friendly bunch – they make everyone welcome! If you are new to painting you will find seminars are and awesome experience. If you are already 'into' painting, enjoy the guided practice and new techniques as you create a finished project.
---
Cost: $30 DASF or NDA members / $40 non-members
Palette: DecoArt has donated the Paints. Palette will be available at NO charge!
Cadmium Yellow
HiLite Flesh
Country Blue
Olive Green
Raw Sienna
Blue Violet
Brilliant Red
Royal Fuchsia
Black Green
Paynes Grey
Winter Blue
Blue Chiffon
Warm White
Light Mocha (ONLY if you wish to base coat your piece with this color)
Ocean Blue
Glazing Medium
White Lightening is used to base coat the piece
Brushes:
3/4" Angle

1/2" Angle

Small Fan Brush

#4 Round

Liner

One-Stroke Lettering Brush (or brush of your choice)
Surface:
Wood from woodcutter is $8.00 + if you want a paper template to line up the inside correctly is another $1.00

OR use a wood surface of choice

OR use a 20" x 20" canvas
Supplies
:
Ruler

Tracing Paper

Dark Graphite

Paper Towels

Water Basin

Small Cup (for Glazing Medium)

Toothbrush (for splattering)

OTHER brushes and supplies you are happy to use
Seminar SeatsThis design is so-o Southwest Florida 'friendly' that it will be perfect in your Florida home. People travel thousands of miles to enjoy this scene. Join the fun as we learn to paint this acrylic design on a unique wood plaque. Seminar sign-up is by mail (checks payable to DASF) Please include the seminar receipt you have filled in with your contact information. Note 1/2 down deposit required and the remainder 30 days prior. There is a "NO-refund" policy.Click Here for the registration form to enclose with your check made payable to "DASF"
Mail your completed form and check to…Madonna Williams9469 Gladiolus Preserve CircleFort Myers, FL 33908