January Program
Saturday, January 11, 2014
Meeting at Cypress Lake Presbyterian (click for map)

Red is for Courage (Watercolor and Ink)
with Joyce Kostelak
Student artist highly allergic!
Due to a student artist with a serious allergy to certain painting products, we are asking that you refrain from bringing these with you into the classroom.
Turpinoid Natural by Martin Weber
Any Krylon product
---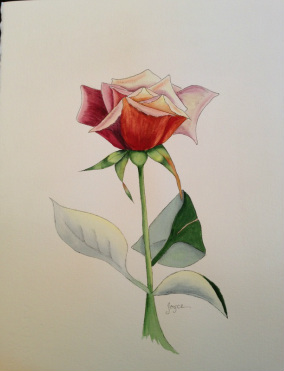 A founding member of the Decorative Artists of Southwest Florida and a very talented painter, Joyce Kostelak is an expert at teaching the painting of a rose. There are many subtle colors in this beautiful picture.

Rose colors have been used traditionally to convey certain meanings. The meaning of a "red" rose is courage.

You will not need courage to paint this even if you have never done watercolor before. Joyce will lead you step-by-step to a beautiful picture.

You will start with an 11x15 sheet of 140# coldpress watercolor paper.


GUESTS ARE WELCOME!


---
SUPPLY FEES:
Pattern/Photo $2.00 these will be available at the January meeting
Palette $2.50 will include the watercolor paints listed below, if you choose not to bring your own paints
Paper $2.00 For 1/4 sheet 140# Arches Cold Press Watercolor Paper
All items for a total of $6.50. Please bring change and small bills to avoid confusion
DIRECTIONS:
This program is appropriate for beginning to intermediate painters. Even the advanced can learn when they paint with Joyce
SURFACE:
1/4 sheet 140# cold press Arches watercolor paper (11 x 15)
PALETTE (Grumbacher Watercolors preferred):
Paynes Grey
Hookers Green Deep
Cadmium Yellow Pale
Alizarin Crimson
Burnt Umber
BRUSHES:SUPPLIES:
Micron Pigma permanent black ink pen, Size .01
Wax-free transfer paper
White Plastic Eraser
Stylus
Masking Tape
Paper Towels
Large Flat Watercolor Palette