November Program
Saturday, November 11, 2017
Meeting at Cape Coral Art League (click for map)

Acrylic
SEASIDE SENTINEL
with Jackie Marth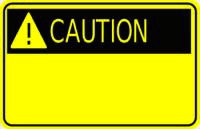 Due to a student artist with a serious allergy to certain painting products, we are asking that you refrain from bringing these with you into the classroom.
Turpinoid Natural by Martin Weber
Any Krylon product
---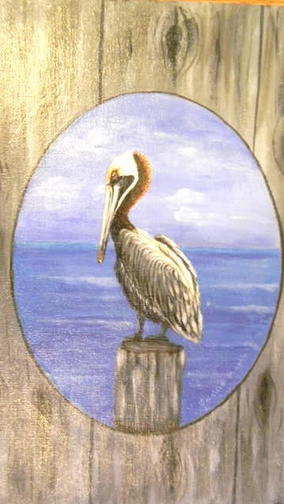 That "the pelican is a wonderful bird and his bill can hold more than his belly can" is TRUE!

The California brown
pelican can hold
about three gallons in
its bill
and one gallon in
its belly
. But it is NOT true that this bird painting is on barn wood. The canvas is faux painted to just look like wood.

This will be a fun program as we paint this handsome bird who is such a familiar sight in Southwest Florida. The brown pelican in the picture is a mature fellow. The juvenile form has a brown head.

Learn to paint faux wood, feathers, the sea and the sky with Jackie. You will find her a great teacher.
GROW YOUR CHAPTER …bring a guest. Guests are always welcome!
---
SUPPLY FEES:
Pattern $5.00 (includes instructions and clear contact paper)
Palette $1.00
All items total $6.00 Please try to bring correct currency so we don't have to make a lot of change
SURFACE:
​​FREE: This program includes a FREE 11x14 canvas. Canvases are free for DASF members participating in the program; 11" x 14" canvases are available for non-members for $2.00

SURFACE PREPARATION:
PALETTE: (DECO ART AMERICANA PAINTS)
Black
White
Burnt Umber
Burnt Sienna
Bleached Sand
Calypso Blue
Sapphire Blue
Indian Turquoise
Coral Shell
BRUSHES:
1 inch Flat
1/2 or 3/8 inch Angle
#4 or #5 Round
#0 Liner
Dry Blending Brush
SUPPLIES:
Tracing Paper
Transfer Paper
Paper Towels
Pencil
Masking Tape
Water Container
Clear Contact Paper
Wet or Dry Palette
Red Pen​