Janet Snell: Acrylic
http://janetsnell.com
Yellow CosmosSaturday, November 22, 2014
9am - 3pm
Cape Coral Art League (click for map)
516 Cultural Park Blvd
Cape Coral, Florida 33990
Janet Snell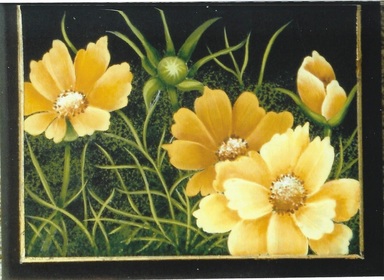 A talented artist and DASF chapter member, Janet is known for her still life designs. But living in Florida has opened her eyes to many new and exciting subjects to paint. These wonderful changes to Janet's painting life means sand, seashells, flowers and the wonderful colors are now a part of her new painting subjects. The blues in the sky and the water, the many beautiful flowers that bloom all year and the greens of the plantings are exciting new opportunities for painting. These colorful cosmos illustrate her striking use of colors.

She loves painting these subjects on new surfaces with interesting backgrounds and designing tables runners using RocLon. These new designs are part of her new packets.

Janet does seminar teaching and has lead DASF members in painting projects before. It will be a treat to paint these beautiful cosmos with Janet. Her designs are originals and one of her originals on an ornament was selected for display on the Library of Congress tree in Washington, D.C. Stop by to visit if you are in D.C. during the holidays!


---
Cost: $30 DASF or NDA members / $40 non-members
Palette (all colors are DecoArt): Provide your own paints/palette.
Cool White
Warm White
Antique Gold
Pineapple
Golden Straw
Dark Chocolate
Black
Hauser Green, Light, Medium and Dark
Traditional Raw Sienna OR Raw Sienna
Olive Green - optional
Brushes:
#4 or #6 round brush
Good longer liner
Surface:
Wooden box available at http://warekare.8k.com for $8.00 (see photo of box at bottom of page)
OR, paint on another surface of your choice that will accommodate the 6-1/4 x 5-1/8 design
Preparation (follow the steps as listed below):
Sand
Basecoat with 1:1 mix of Black paint and All Purpose Sealer
Sand, lightly
Basecoat with Black paint, only - no sealer
Supply Fees:
Gold Leaf $4.00; ...will include double stick tape (1/4" wide) and Gold Leaf Flakes
Supplies
:
All Purpose Sealer
Sea Sponge
Lunch:
BROWN BAG
- bring your own sack lunch
Celebrate Fall with a Janet Snell seminar and your painting friends. Seminar sign-up is by mail (checks payable to DASF) Please include the seminar receipt you have filled in with your contact information. Note 1/2 down deposit required and the remainder 30 days prior. There is a "NO-refund" policy.Click Here for the registration form to enclose with your check made payable to "DASF"
Mail your completed form and check to…Carol Blankenship, Seminar Chair1438 Larkspur DrFort Myers, FL 33901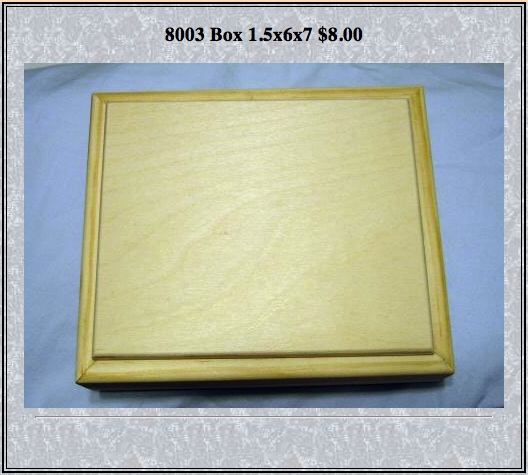 NOVEMBER 2014 SEMINAR PHOTOS: Yellow Cosmos with Janet Snell