January Meeting
January 8, 2011

Color Wheel with Joyce Kostelak


An expert with the brush and with a knowledge of color, Joyce led the group to learn that with just three colors, any color can be created.
The three primary colors are…
red (napthol crimson)




yellow (cadmium yellow light)




blue (cobalt blue).



White, not a primary color, was also used in the palette.
Using those three primary colors we created twelve colors seen in the flowers, used tones to outline each colored flower petal, and used tints in the daisy flower centers.
There was so much to be learned from this project and many were amazed that it is not necessary to buy yet another bottle of premixed color from the craft store! Thank you, Joyce, for such an informative lesson!
Hat Box Project created using ONLY 3 primary colors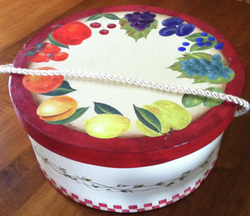 Base coated with Americana Buttermilk, all of the other colors were created using just red, yellow, and blue.
---