November Program
Saturday, November 8, 2014
Meeting at Cape Coral Art League (
click for map
)

Snow's on the Way (Acrylic)
with Diane Davis
Student artist highly allergic!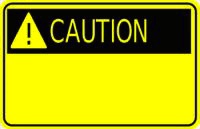 Due to a student artist with a serious allergy to certain painting products, we are asking that you refrain from bringing these with you into the classroom.
Turpinoid Natural by Martin Weber
Any Krylon product
---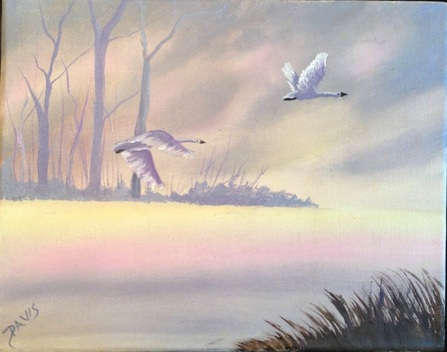 Diane is one of our DASF experienced teachers with great credentials who loves to paint and is certified by a number of instructors such as Bob Ross. She has spent much of 2014 studying painting and has just been certified as a Gary Jenkins instructor. You will find she has a lot to offer as she leads each of you to create a unique painting.

This acrylic painting on canvas is another beautiful Brenda Harris design interpreted by Diane Davis. She will help you create this picture on an 11 x 14 canvas. This painting is showing the chill in the air as the birds take flight to escape the bitter cold that is approaching, knowing that snow's on the way. As our human snowbird friends find their way back to Florida, please invite them to be your guest for this program. GUESTS ARE ALWAYS WELCOME!
---
SUPPLY FEES:
Pattern/Photo $2.00
Palette Palette will NOT be available. You must bring your own acrylic paints
DIRECTIONS:
This program is appropriate for beginning to intermediate painters. There is NO advanced preparation required
SURFACE:
11x14 canvas, stretched canvas or canvas board is your choice
PALETTE:
Burnt Umber
Cadmium Yellow
Dioxazine Purple
Payne's Grey
Any Pink (such as baby pink / bubble gum pink ...will be mixed with white so even a red will work)
White
Hauser Medium Green
Canvas Gel
BRUSHES - suggested brushes, but bring brushes you already have:
1" Bristle, flat
#8, #10, OR #12 Bristle Round (something for stippling in the foliage along the water line) OR Natural Sea Sponge
Bristle, fan
Tapered 3/8 OR 1/4 synthetic angle (small to do the geese)
#2 Round
Liner
SUPPLIES:
Standard painting supplies
tracing and transfer paper