January Program
Saturday, January 14, 2012

Tulip Temptations
with Joyce Kostelak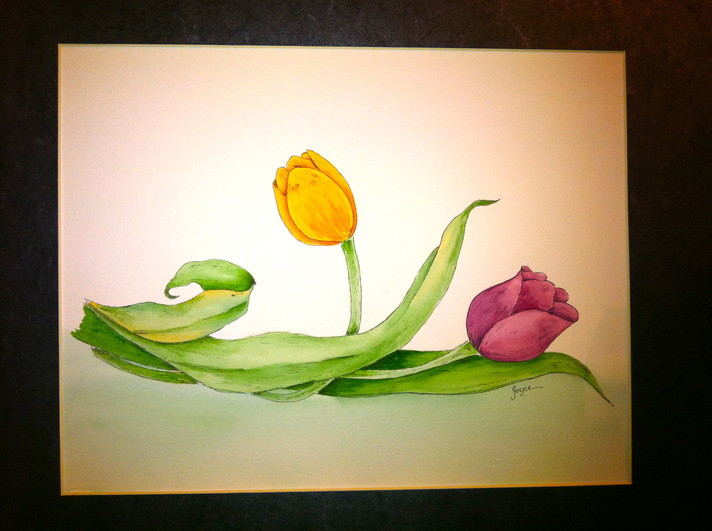 ---
Joyce Kostelak
Recalling the tulips from childhood will help you remember the smell of the earth when springtime finally arrives. Did you know that tulips originated in Turkey getting their name from the Turkish word "tulbend" which means turban? Tulips were introduced to Holland from Persia. These numerous flowers are now enjoyed in many places throughout the world. Hybridization has produced many beautiful colors and varieties.
Painting these two beautiful
TULIPS
with Joyce Kostelak will
TEMPT
you to improve your techniques with watercolor. This is an ink and watercolor style of painting.
Joyce is an experienced teacher. She studied with the best in Russia, is a charter member of DASF, and has been published several times in the
Decorative Painter
magazine. She will help you move your painting skills forward.
GUESTS ARE WELCOME!SUPPLY FEES:
Pattern/Photo $1.00
Paper $2.00
Palette $2.50
All three items for a total of $5.50. Please try to bring correct currency so we don't have to make a lot of change.
DIRECTIONS:
This program is appropriate for beginning to intermediate painters. Even the advanced can learn when they paint with Joyce



PAPER:
11 x 15 (1/4-sheet) of 140 lb Cold Press ARCHES Watercolor Paper

BRUSHES:PATTERNS:
Available at the January meeting



PALETTE:
Micron Pigma Pen, Permanent Black, Size 01




Watercolor Paints (Grumbacher preferred)




Hookers Green Deep




Paynes Grey




Alizarin Crimson




Ultramarine Blue




Cadmium Orange -OR- Cadmium Yellow
SUPPLIES:
Standard painting supplies