October Program
Saturday, October 10, 2015
Meeting at Cape Coral Art League (click for map)

Backgrounds (Acrylic)
GETTING WITCHY!
with Martha Stevenson


Due to a student artist with a serious allergy to certain painting products, we are asking that you refrain from bringing these with you into the classroom.
Turpinoid Natural by Martin Weber
Any Krylon product
---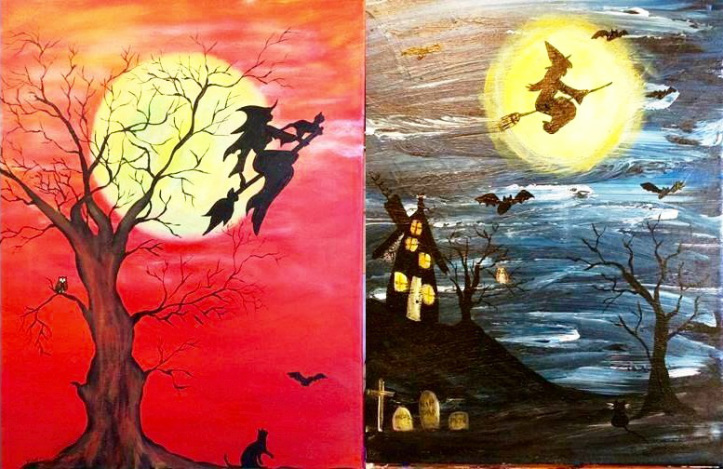 Fall is in the air and everywhere you look you'll see things getting WITCHY… Martha will teach this Halloween scene for October. The skill for this month is painting BACKGROUNDS.

Backgrounds can be smooth or mottled created with brushes, rollers, or sponges. For the Big spaces on this 16x20 canvas a large flat brush will work very well to let you get the paint down without drying so you can paint wet into wet. Blend your colors. Play a bit. Select your own background colors and characters/items you put on it. There will be stencils to choose from, too.
Help grow your chapter. Bring a guest. GUESTS ARE ALWAYS WELCOME!


---
SUPPLY FEES:
Pattern/Photo $1.00
Palette $4.00
All items total $5.00. Please try to bring correct currency so we don't have to make a lot of change
SURFACE:
16x20 canvas (The chapter will provide the canvas for FREE to members and $4.00 for guests)
PALETTE:
Black
Yellow
White
Paynes Grey
Other Colors you want to use
BRUSHES:
1" Bright (Flat or Angle) Background Brush
Liner
Smaller round
Martha will have brushes you can use
SUPPLIES:
Canvas
Easel
Brushes
Acrylic Paints (you pick the colors)
Water
Container
Apron
Transfer Paper
Pen or Pencil
Paper Towels
Palette