September Program
Saturday, September 10, 2011

Suitcase Sophistication
with Suzanne Mikulka, CDA and
Sheila Rogoff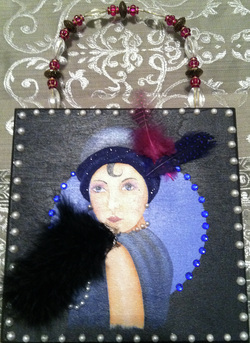 Several Designs Available ...
Two fine painters with talent, heart and style have teamed up to bring you this program of community service.
IT WILL BE A FUN-FILLED DAY!
SHEILA ROGOFF...
"Suitcase" Sheila has been leader of this program for years that has supplied a bit of dignity to the foster children of SW Florida. Now she turns our attention to women from ACT, a facility for abused women and Our Mother's Home, a facility for unwed mothers.
Plan to paint a suitcase with a "Sophisticated Lady" pattern – there are several available. If you still need a suitcase, contact Sheila so she knows how many to bring to the September meeting.
SUZANNE MIKULKA, CDA...
Suzanne Mikulka, CDA will teach DASF painters in a fun design with a bit of sophistication that will provide a place for these women to keep their belongings when they may have little else. You will probably find other surfaces that you will want to decorate with this upbeat design such as a mirror for your vanity or a special item for friend or family. The designs all feature a pretty woman wearing a hat. You may embellish with a bit of glitz. What woman has not from time to time thought, "if it doesn't shine, it isn't mine!"?
DIRECTIONS:
COME! Enjoy this program. Help others. Enhance
to your painting skills.
PREPARATIONS:
Prep your suitcase - get it clean and ready to paint
Have NO suitcase? CALL or EMAIL Sheila and she will bring one to the meeting for you
Painting Questions? CALL or EMAIL Suzanne
PATTERNS:
Patterns: available at the August meeting (if you were not there they will be at the September meeting, too
PALETTE:
Bring some to share with your table buddies
SUPPLIES:
Standard painting supplies (brushes, water tub, papertowels, tracing / transfer papers)
---