September Program
Saturday, September 12, 2015
Meeting at Cape Coral Art League (click for map)

Boutique Painting (Acrylic)
BOUTIQUE MAGIC!
with Cheryl Earle


Due to a student artist with a serious allergy to certain painting products, we are asking that you refrain from bringing these with you into the classroom.
Turpinoid Natural by Martin Weber
Any Krylon product
---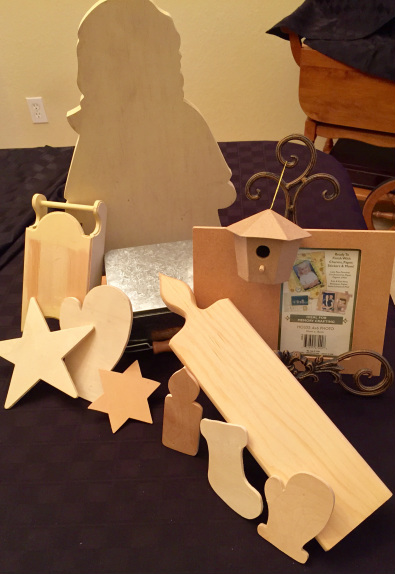 The magic of the holiday season is YOU… Without your talent and work there would be no BOUTIQUE and no Winter Luncheon.
Come to the meeting and get
FREE surfaces




FREE wood pieces



See some of the many pieces available in the photo to the left.
Just bring paints, brushes, and patterns because at this meeting we will start creating lots of items for our Winter Luncheon BOUTIQUE.
Come and help make the magic of the holiday season. You will be helping the community by funding a scholarship, memory boxes, and all the other things we do in the community.

GROW OUR MEMBERSHIP …BRING A GUEST!
---
SUPPLY FEES:
Palette – We will share our paints with each other
Surfaces are provided for FREE
SURFACE:
If you have a favorite surface bring it from home with your pattern and paints
For lots of fun, use the FREE surfaces - we will have plenty of them and patterns, too.
PALETTE:We will share our paints so bring a bunch that might be used for Holiday Designs

White
Red
Green (3-Hausers for painting leaves)
Blues and any others that will work for a design you have in mind
BRUSHES:
a variety of your favorites
SUPPLIES: