Tropical Koi
Acrylic
Monday, February 29, 2016
9am - 4pm
Sandy Hook Fish & Rib House
4875 Pine Island Rd
4875 Pine Island Rd, Matlacha, FL 33993​
Matlacha



Tropical Koi with Suzanne Mikulka, CDA in Matlacha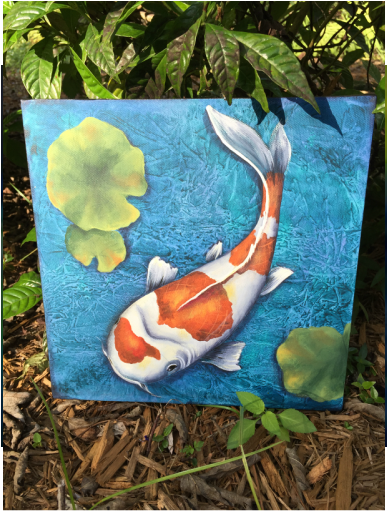 Matlacha (pronounced MAT-la-shay) is an "Old Florida" fishing village that is now well known for art galleries, seafood restaurants, cottages, and its brightly-colored buildings. If you have visited before you know its charm. If this will be your first visit, you will want to come back again and again.
This seminar is
an exciting opportunity
to paint at the most beautiful spot right on the water viewing Pine Island Sound. Dine at the
Sandy Hook Fish & Rib House
. Enjoy a beautiful Winter day. Paint with the talented teacher, Suzanne Mikulka, CDA. You will be glad you chose to join DASF for this outstanding day! Guaranteed, …if you glance out at the bay you will see the mullet jumping.
The
Tropical Koi
is an original design by Suzanne. You will go home with a beautiful painting, a fantastic learning experience and a happy belly. Lunch goes along with this great seminar.
So plan to sit back, relax and learn with your painting friends. Registration will be limited to 25 painters so sign on early so you don't miss out!
Reconnect with old friends. Make new friends in this day of sharing and learning.
---