Diane Davis: Oil
Blue and Gold MacawSaturday, March 21, 20159am - 3pm
Cape Coral Art League (click for map)516 Cultural Park Blvd
Cape Coral, Florida 33990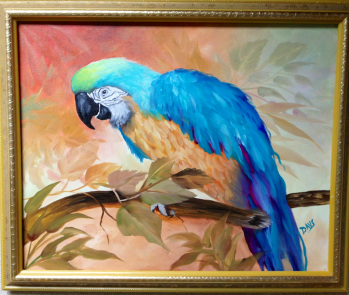 Believe
!
You can paint this..
The Blue-and-Gold Macaw is symbolic of life in our tropical paradise. What a beautiful picture it is! The subtle shading contains the colors of the rainbow. You will be proud to display this one on your wall or gift it to a friend. Teacher Diane Davis is well trained in the use of both acrylics and oils and she will have you use both while painting this canvas. She has studied and received certification from a variety of professional teachers such as Bob Ross and Gary Jenkins.
Come paint and learn with your old friends or make some new painting friends at this seminar that is suited to both beginning and intermediate painters.
---
Cost: $30 DASF or NDA members / $40 non-membersSupply Fees:
Supply Fee $7.00 - all inclusive (Pattern/Photo/Oil Paints/Turps/Medium)
You need to bring a small jar for the turps (maybe a baby food jar OR jelly jar)

Palette:
In addition to the oil paints that are supplied by Diane with the palette, you will need to bring acrylic paints for eye and beak...

Black

White
Small cup or Basin for water to rinse
Preparation:
LOTS of paper towels! Before you come to class. Pile up your paper towels and cut them in half and then in half again. There is nothing like picking up a towel that has already been used. It saves on the use and keeps your hands fairly clean.

Make a palette for your paints. Take a 9x12 (approximate) piece of cardboard and cover it with freezer paper (shiny side up) OR bring a real oil palette OR bring palette paper that is labeled as suitable for oils
Brushes:
Brushes for BACKGROUND…
1-inch OR 1-1/2-inch brush for background, either bristle or synthetic (a cheap chip brush will work)
Brushes for BIRD/LEAVES (soft synthetic OR oil brushes)...
1 inch flat
1/2 inch flat (Diane likes to have two)
#8 filbert OR #6 filbert will work, too
#1 OR #2 liner
Your favorite brushes (better to have too many than too few)
Surface:
16x20 canvas
NO preparation is required
Supplies
:
Regular painting supplies

Bring a small trash bag to tape to your table for the discarded towels.
Lunch:
BROWN BAG
- bring your own sack lunch
Seminar No Longer Available
What a beautiful and tropical design to display on your wall. NOT an oil painter? You can learn so much by studying with those who teach other media from what you usually work with. Diane Davis will bring both the beginner and the intermediate painter to successful results. Seminar sign-up is by mail (checks payable to DASF) Please include the seminar receipt you have filled in with your contact information. Note 1/2 down deposit required and the remainder 30 days prior. There is a "NO-refund" policy.Click Here for the registration form to enclose with your check made payable to "DASF"
Mail your completed form and check to…

Deb Foley, Seminar Chair




1921 SE 12th Ter




Cape Coral FL 33990