July Program
Saturday, July 9, 2016
Meeting at Cape Coral Art League (click for map)

Oil Color Paint on Reverse Glass
BUTTERFLY BEAUTY
with Joyce Kostelak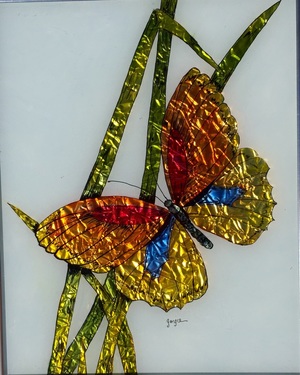 Paint with Joyce and she will have you doing everything backwards!

That's what Reverse Glass Painting is all about. It is an ancient art form that almost perished. Everything is done in reverse. Once the painting is done, the glass is turned over and the painting is viewed through the glass.

This will be unlike anything you have done before and the results are quite amazing. The colors are vibrant.

GROW YOUR CHAPTER …bring a guest. Guests are always welcome!



---
SUPPLY FEES:
Drying Medium will be provided at NO charge
Pattern/Photo $2.00
Paint Palette $2.00
SURFACE:
8 x 10 Glass
OR
8 x 10 Plexiglass
HOME PREP:
Clean Glass and DO NOT handle.
PALETTE:
COLORS ARE OILS
Alizarin Crimson
Cadmium Yellow Pale
Ultramarine Blue
Sap Green
White
​BRUSHES:
SUPPLIES:
Crow quill pen
India Ink
Odorless Turpentine
Aluminum Foil, at least 8 x 10