Judy Nicewicz: Acrylic Seminar
http://www.picturetrail.com/Judy_Nicewicz

Tuckered Out


Saturday, January 18, 2014
9am - 3pm
Cypress Lake Presbyterian Church (click for map)
8260 Cypress Lake Dr
Fort Myers, Florida 33919


Judy Nicewicz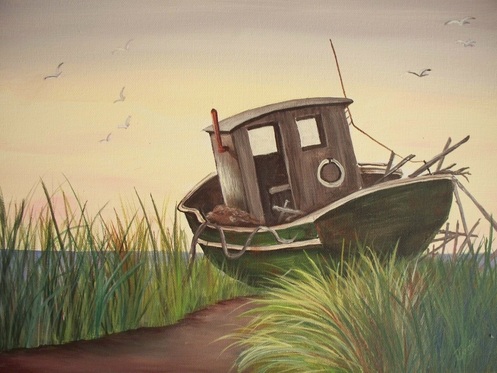 Painting can relieve stress, occupy spare time, and just make you feel good. Judy Nicewicz can attest to that as she started painting in 2004 and has never looked back. She says she reinvented herself through painting and has met many wonderful people along the way.

She started painting with Donna Dewberry and Onestroke Painting and quickly found herself certified in clay, High Definition Painting, and a Pricilla Hauser Accredited teacher. Judy never stops learning as she continues her studies with Donna Dewberry, Pricilla Hauser, Marjorie Harris Clark, Brenda Harris, Gary Jenkins, Bill Bayer, Dorothy Dent, and Darrell Crow.

And Judy loves to share with enthusiasm all that knowledge. She teaches in many media including acrylics and oils. Judy has represented Grumbacher in their Fine Arts Program, is a member of TEAM (Teacher of Educational Art Materials), and has taught in many settings such as AC Moore, Michael's, and Caladium Co-op.

Join us at this seminar while Judy leads you through creating your own version of the "Tuckered Out: An Old Boat" and shares some of her vast knowledge of painting. You will walk away a better painter - and connect with some pretty wonderful people, too!



---
Cost: $40 DASF members / $50 non-membersPalette: Palette Paints are Plaid with the gold cap (except extender and floating medium). The palette is available at Seminar at a cost of $7.00 OR you may supply your own paints. If you plan to purchase the palette from Judy, please bring change and small bills to avoid confusion.
Extender
Floating Medium
Titanium White (480)
Turquoise (961)
Brilliant Ultramarine (484)
Red Light (620)
Yellow Ochre (917)
Burnt Sienna (943)
Burnt Umber (462)
Sap Green (458)
Thicket (924)
Apple Orchard (2241)
Pure Black (479)
Teal (405)
Medium Gray (425)
Peach Perfection or Peach (617)
Brushes:
Your FAVORITE brushes plus the following Royal Langnickel Royal Soft Grip
SG 400F #12, 6, 2 Flat Bristle (Large, Medium, Small)
SG 405FB #2, Small Bristle Fan
SG 160 1/2 inch Synthetic Angle Brush
SG 730 1/2 inch Synthetic Comb OR 1/2 inch Aqualon Wisp #2165
SG 585 #0, Small Liner
SG 152-2 #2, Small Flat Synthetic Detail Brush
SG 1400 1/2 inch, Mop
3/4 inch, ROund
Surface:
12 x 16 canvas OR 16 x 20 canvas
Prior Preparation:
Canvas needs to be base coated with white acrylic paint
Pattern will be put on in class
Supplies:
Usual painting supplies
Masterson Super-Pro Sta-Wet Palette System OR large 9 1/2 x 14 1/2 inch aluminum foil cookie pan with a wet sponge, shammy or paper toweling underneath the sat-wet palette paper
large water container
easel
paper towels
masking tape
grey graphite transfer paper, stylus, small natural sponge
crooked handled palette knife
tracing paper / pencil
Lunch:
Brown Bag
- bring your own sack lunch
This seminar is a sell-out. If you want to be on a waiting list fill out a seminar receipt and mail to the seminar chair. Do not send payment.
Start off the New Year with a Judy Nicewicz seminar and your painting friends. Seminar sign-up is by mail (checks payable to DASF) Please include the seminar receipt you have filled in with your contact information. Note 1/2 down deposit required and the remainder 60 days prior. There is a "NO-refund" policy.Click Here for the registration form to enclose with your check made payable to "DASF"
Mail your completed form and check to…Madonna Williams, Seminar Chair9469 Gladiolus Preserve CircleFort Myers, FL 33908