October Meeting
Saturday, October 8, 2011

Fall Harvest Tray (Acrylic) with Judith MacLaren
www.MuralsByJudith.com


Harvest Tray with Judy MacLaren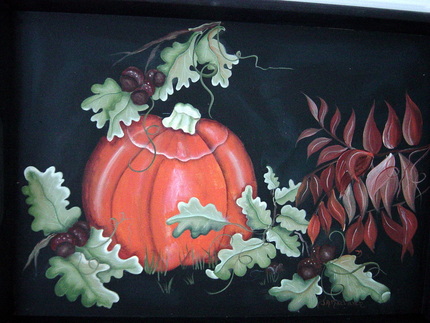 This acrylic pattern has fall colors and seasonal elements such as pumpkins, oak leaves and acorns that will adorn your home throughout the season whether you display it against a wall or use it to grace your Thanksgiving table as you entertain. You will enjoy creating this piece as Judy leads the Chapter. While Judy loves to teach beginners, she is well qualified for working with intermediate painters. She is a wonderful artist.
This project is a real winner, sure to please everyone. You will want to make more than one!
---
Supply List

Wooden Tray, 9" x 14"
White Transfer Paper
Pen / Stylus
Usual Supplies



Acrylic Paints

Black Green
Burnt Umber
Burnt Sienna
Medium Green, any med green
Buttermilk
White
Charcoal
Orange, any orange - Jack o'Lantern Orange (A) is Judy's favorite



Preparation

Seal
Sand
Basecoat (Black-Green or Black)



Brushes
Round, #5 or #6
Angle, 1/2 or 3/4
These are just suggestions, always use your favorites