White Poinsettias in Acrylic with Gerri Zoppa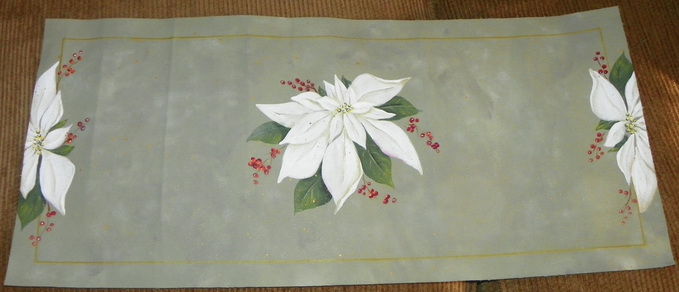 Designed by Gerri, these acrylic pointsettias reflect her knowledge of the flower. Employed in a greenhouse, she has photographed and studied these flowers in detail to give us this wonderful representation based on a composite of the living flowers. Those who paint with Gerri always walk away with a beautiful project. The November meeting was no exception as painters worked on table runners, placemats, trays, lazy susans and more to create a variety of beautiful items for the holiday season. Paint the pattern again to practice what you learned. Maybe a canvas for your wall or a set of placemats would suit your needs. Or what about a wonderful gift to give?

Gerri reminds us that the colors are only suggestions. Change the greens and use any light tan to base coat the flower petals. Your results will be equally excellent. When it was time to make berries we used dampened Q-Tips dipped in 3 different colors rotating it so that the colors were loaded around the cotton swab like colors around a wheel. In one easy touch to the surface we had berries with highlights and shadows. The colors used were a burgandy, a bright red, and an orange.


---
Supply List

Roc-Lon 14 inches wide x 46 inches long (or customized for the length of your table.) Roc-Lon comes in 54 inch width and does not fray. It is available at JoAnn's for $5.99 a yard and can be purchased with a discount coupon.
Basecoat
Celery Green + Neutral Grey 2+1 (Or background color of your choice)

I used a roller to apply – while still wet, I rolled Lt. Ivory gently across my surface.

Paints
Deco Art: Celery Green, Neutral Grey, Avocado, Titanium White

Delta: Lt. Ivory, Sandstone, Eggshell, Black Cherry, Tomato Spice, Pumpkin,

Plaid: Butter Pecan

Any Burgundy, yellow, Black Green, Dark Brown, Metallic Gold