August Program
Saturday, August 10, 2013

Plate (Acrylic)
with Suzanne Mikulka, CDA
Student Artist highly allergic!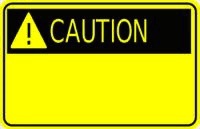 Due to a student artist with a serious allergy to certain painting products, we are asking that you refrain from bringing these with you into the classroom.
Turpinoid Natural by Martin Weber
Any Krylon product
---
Suzanne Mikulka, CDA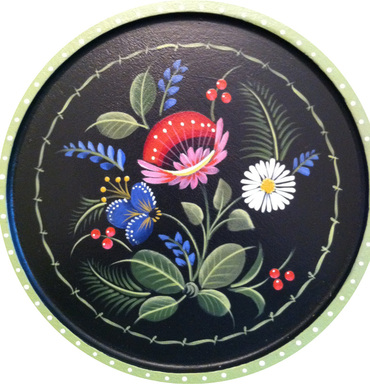 So you've always wanted to be able to do stroke work! Connect to the past as you paint stylized flowers and leaves and add strokes and linework.
"Flowering," a term used in the 19th century, was used to decorate tin work from Pennsylvania and New England.
There is no better place to learn than from a master like Suzanne with her amazing techniques. She can lead you through choice of brushes, consistency of your paint, and probably, most important of all, how to load your brush...
Suzanne is not only a master at painting strokes, she is a master at teaching, too. Stroke work is a great tool to add to your painting skills.
This design is shown on a plate but would be equally at home on a barstool, a tray, a placemat or a lazy susan. If you want to admire your handiwork often, maybe a clock face would be a good surface, too.
You are welcome to bring a guest to share in this wonderful program.
GUESTS ARE WELCOME!
---
SUPPLY FEES:
Pattern/Photo $1.00
Palette $1.00
Both items for a total of $2.00. Please try to bring correct currency so we don't have to make a lot of change
ADVANCE PREPARATION:
The inside portion is based in Black. The outside rim is painted Foliage Green
SURFACE:
Suzanne used a plate that is 11 inches round with an inside diameter of 7-1/2 inches. Any round surface will do. Students can enlarge design as they feel necessary.
PALETTE:
Feel free to SUBSTITUTE any color
Medium Hauser Green
Olive Green
Sapphire Blue
Baby Blue
Antique Gold
Lemon Yellow
Light Avocado
Plantation Pine
White
Black
Autumn Red
Baby Pink
Deep Midnight Blue

BRUSHES:
0/0 Script Liner (a good SCRIPT liner this size is preferred)
Your usual favorites
SUPPLIES:
Stylus (for dotting is helpful)
Standard painting supplies