July Meeting
Saturday, July 9, 2011
Dragonflies, Backgrounds and Multi-Media
http://www.janetsnell.com/index.php
Multi-Media and Unusual Backgrounds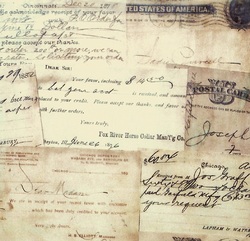 Unique Background Paper made on Photocopier
Janet Snell will lead us through this project that will have you busy with several different media as she teaches
unusual background
preparation.

You, too, can create a unique background paper with a photocopier and antique documents you find in a family trove or in an antique store. The paper covers a piece of hard board or student board and is finished with satin varnish. Janet always makes sure we learn a new technique...


Working with acrylic paints and rubber stamps the member's works of art included waterlilies, leaves and a dragonfly.

Janet, a member of DASF, is an experienced teacher and has painted with many of the "big-brushes" such as JoSonja and Sherry Nelson. She has taught at the National Convention and she has been published in the
Decorative Painter
.
It was an exciting and greatly enjoyed program. We thank Janet for sharing it with us!
---
$7 SUPPLY FEE COVERS SURFACE AND ALL PAINTS
Surface:
8 x 8 background, prepared for you by Janet
Colors:
DecoArt Palette
Avocado; Light Avocado; Plantation Pine; Black Green
Golden Straw; Raw Sienna; Black; Saffron Yellow
Deep Burgundy; Canyon Orange; All Purpose Sealer; Cool White
Burnt Umber
Traditions
Napthol Red (furnished)

Supplies:
Regular supplies