Jackie Marth: Acrylic
Fishy Bird BathSaturday, October 24, 20159am - 3pm
Cape Coral Art League (click for map)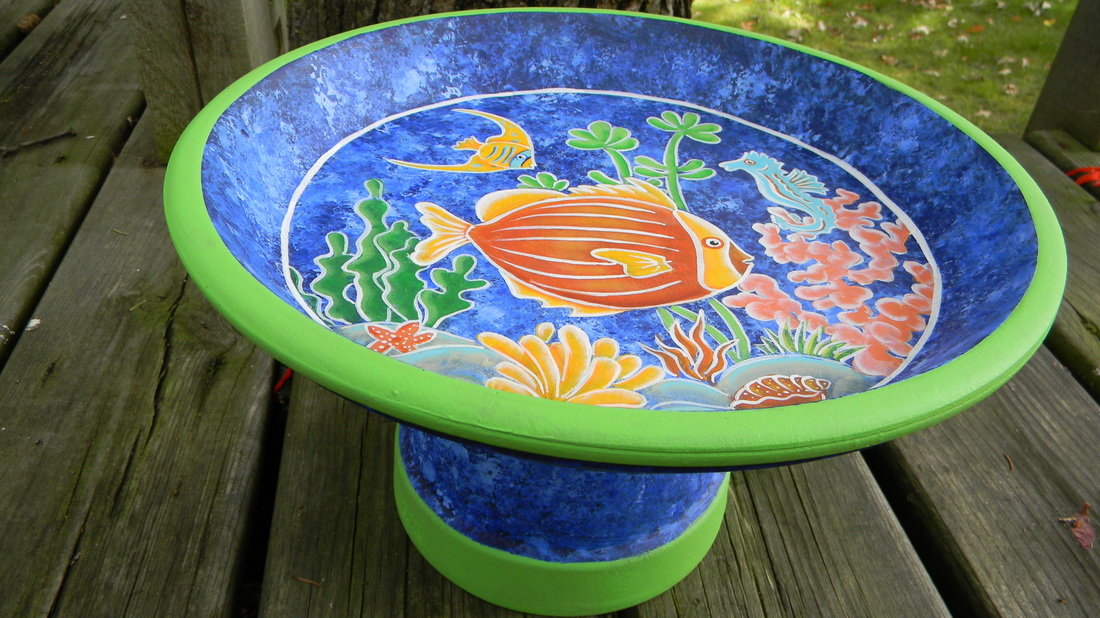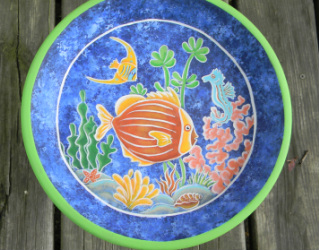 This great project with the color of the tropics welcomes our snowbirds back to Florida. While you may be seeing fish, this project is for the birds. That's the birds found in nature …and our snowbirds.

Use this birdbath indoors or out. What a cute way to serve snacks at your welcome back parties out on the lanai! Or fill with water for your feathered friends to splash about.





---
Cost: $30 DASF or NDA members / $40 non-membersPalette:
Jackie uses Deco Art American Paints. . .
Palettes will we available for $2.00 if you wish to purchase one!

White

Bleached Sand
Saffron
Terra Coral
Tangelo Orange
Burnt Orange
Citron Green
Sour Apple Green
Festive Green
Evergreen
Indian Turquoise
Ultramarine Blue
Ultra Blue Deep
Raw Sienna
Burnt Umber
Lamp Black
All Purpose Sealer
Satin Vanish
Brushes:
#3 & #5 Round

1/4, 3/8, and 5/8 Angular

#6 Filbert

#0, #2/0, and #10/0 Liners

#3 and #5 Rounded Bristle Blenders

1-inch Flat

Variety of favorite brushes
Surface:
Pattern Size is 10-inches
6-inch Flowerpot (Measure the width across the top)
12-1/4 Clay Saucer (Measure the width across the top. The bottom inside width will be 10-inches.)
Supplies
:
Tracing Paper

Black and White Transfer Paper

Palette Paper

Wet or Dry Palette

Scotch Tape

Blue Painter Tape

Sea Sponge

Paper Towels

Water Container

Pencil

Pen

White xxx

Regular painting supplies
Preparation:
Jackie likes to start promptly, so the surface preparation must be done before class in order to complete the project in a timely manner!
Seal the clay pot and the saucer with a coat or two of All-Purpose Sealer.
Basecoat the bottom of the clay pot with Ultra Blue Deep. Basecoat the rim of the pot with Sour Apple Green
Basecoat the clay saucer with Ultra Blue Deep
Sponge the clay pot and the saucer with Ultramarine and White. To do this; wet the sponge and wring it out. Pick up some Ultramarine on the sponge and a tiny bit of White. Lightly sponge your whole blue area with this, making sure to leave some darker blue areas. Without cleaning the sponge, pick up a little White and lightly add a few touches of this. Do not make your sponged area too light!! If you do, your white transfer lines will not show up.
NOTE: I did not sponge the rim of the saucer.Lunch:
BROWN BAG
- bring your own sack lunch
Seminar Sales are NOW available
Snowbirds are for 'for-the-birds' with this great little bird bath. Picture it full of your favorite snack or even out doors with bird snacks or water. The seminar will use acrylic paint. Seminar sign-up is by mail (checks payable to DASF) Please include the seminar receipt you have filled in with your contact information. Note 1/2 down deposit required and the remainder 30 days prior. There is a "NO-refund" policy.Click Here for the registration form to enclose with your check made payable to "DASF"
Mail your completed form and check to…Pat Kersten, Seminar Chair10010 Oakhurst WayFort Myers, FL 33913