March Program
Saturday, March 10, 2012

Calla Lily
with Diane Davis



Student Artist highly allergic!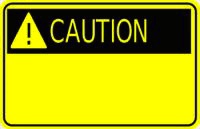 Due to a student artist with a serious allergy to certain painting products, we are asking that you refrain from bringing these with you into the classroom.
Turpinoid Natural by Martin Weber
Any Krylon product
---
Oil Color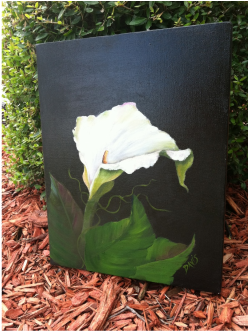 Calla lilies are a beautiful genus of flowers that, interestingly, are not lilies at all. They are reasonably easy to grow and make a spectacular cut flower.

And this is a spectacular oil painting that Diane Davis will teach you to paint. Diane is a talented artist. She teaches locally in community centers, country clubs, and for a craft store. You will love oils, too, after you have painted with Diane Davis.

The calla lily is an original design by the Jenkins Art Studio that Diane has received permission to teach.

GUESTS ARE WELCOME!
---
SUPPLY FEES:
Pattern/Photo $1.00
Palette $4.00
Both items total $5.00. You may purchase the pattern packet only or also add the palette. Please try to bring correct currency so we don't have to make change.
DIRECTIONS:
This program is appropriate for any level oil painter

CANVAS:
11 x 14 this will just fit the pattern
14 x 18 will allow extra space for a white "frame" around your painting if you wish to hang your canvas without framing
BRUSHES:
1/2" bright or flat (Diane likes to have two, one for darks and one for lights) this is optional

2/3" bright or flat (again, Diane likes to have two)
liner
filbert or small round
mop blender
NO bristle brushes (think flowers soft, building landscapes, hard)
The brushes do not have to be natural hair. Simply Simmons work well (you can buy a whole set with a coupon.) Royal & Langnickel is also another good brand. They come in sets also.
PREPARATION:
For the 11 x 14 canvas paint it with either black acrylic paint or black gesso. You want to achieve a uniform color. Diane used the gesso for her artwork.
For the 14 x 18 canvas, place masking tape on each of the four sides to create a "frame."
HINT: Paint by moving your brush away from the tape to prevent the gesso or black acrylic paint from bleeding under the tape. It will give you a nice crisp edge if you take care with this.

REMINDER: Have canvas painted before you come. A cheap sponge brush works well for this. Go down the canvas one way. Let dry, then the other way. Bring the paint with you that you are using for the background.
PALETTE:
ivory black
titanium white
sap green
mauve or violet (two tic-tack amounts)
burnt sienna
cadmium orange (one tic-tack amount)
cadmium yellow light
cerulean or turquoise blue
SUPPLIES:
Standard oil painting supplies
Diane recommends palette, easel, palette knife (for mixing), two-2 oz or small containers (for turps and medium), and paper towels. She has some loaners available. HINT: Bring a box or newspaper to take your WET painting home.