Dee Cochran: Watercolor Batik
http://www.deecochran.com
Sunflower Day
March 22, 2014

9am - 3pm
Cape Coral Art League (click for map)
516 Cultural Park Blvd
Cape Coral, Florida 33990
Dee Cochran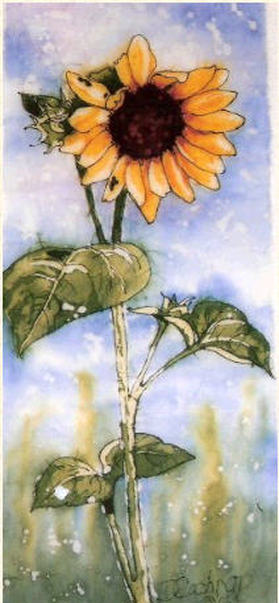 After travel teaching for 18 years Dee is presently designing more patterns for the public and is semi-retired from teaching. Dee says that "Teaching is so much fun and meeting new and old artists friends is too enjoyable to ever totally give it up. There is no more joy than when a student finishes their painting and they are in awe of what they've created. I will never get over the thrill of seeing the pleasure on their face."


Once you have learned this technique you will be wanting to do more. Visit Dee's website to see all the beautiful patterns she has for you to paint. This art form has lots of appeal.
---
Cost: $50 DASF members / $60 non-membersTeacher Furnishes for Class Use:
Kinwashi rice paper
Watercolor paint palette
Wax brushes
Electric fry pans
Cords & Surge Protectors
Original pattern & photo
Eye droppers
Wax paper & canning wax
Double sided tape
All painting go home attached to an acid free back mat.
NO PAINTING EXPERIENCE NECESSARY - class is taught step by step; everyone has a lot of fun and goes home with a finished picture.
Brushes (watercolor or acrylic brushes work):
#4 round
#8 round
1-inch flat
(If you have no brushes, they may be borrowed from Dee. Please let her know in advance.)

Surface:
Supplied (Kinwashi rice paper)
Student Furnishes the Following Supplies:
Paper Towels (viva or Bounty work best)
Micron .03 or .05 permanent waterproof black ink pen or Identipen
Hairdryers - total of 6 sufficient for class of 25
Irons - 3 sufficient for a class of 25
Daily newspaper of at least 20 double pages for last step removing wax with ironing process
1 large water container
Lunch:
BROWN BAG
- bring your own sack lunch
Celebrate Spring with a Dee Cochran seminar and your painting friends. Seminar sign-up is by mail (checks payable to DASF) Please include the seminar receipt you have filled in with your contact information. Note 1/2 down deposit required and the remainder 60 days prior. There is a "NO-refund" policy.Click Here for the registration form to enclose with your check made payable to "DASF"
Mail your completed form and check to…Ann Wilson, Seminar Chair10340 Yorkstone DrBonita Springs, FL 34135