Outside the Box
Watercolor
Saturday, October 28, 2017
9am - 12pm




Outside-the-Box …with Judith MacLaren
​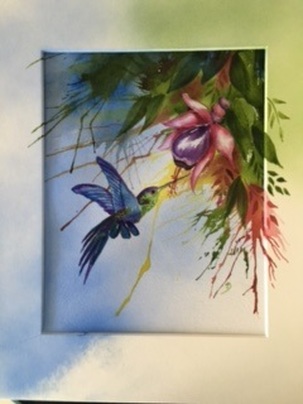 This mini-seminar is one of the Lunch-and-Brush Seminars that have become so popular with our decorative artists. Come learn a new skill painting with a great local teacher from 9am till noon.

The painting class is restricted to just 10-students so you will get plenty of attention. Lunch on your own follows the painting session with the teacher and group gathering at the Wheel House ​to enjoy ordering from the menu. What a great opportunity to renew friendships or make new painting friends

You will find Judith is a talented teacher who will lead you to a successful and completed piece.

This seminar will teach you the art of painting outside the box (extending the painting onto the mat that frames the picture). A special treat will include the use of the airbrush to enhance your design.



---
Cost: $20 DASF or NDA members / $30 non-members
ALL SUPPLIES ARE INCLUDED IN THE PRICE

Palette
(provided - no extra charge)
Ultra Marine Blue
Fuchsia

Alizarin Crimson
Aurelian
Sap Green
Bushes
Fine Liner
Size 10 Ultra Round
Size 5 Round
Surface
(provided - no extra charge)
11x14 White Mat
Arches140lb cold press watercolor paper

Supplies
Usual water painting supplies
​Seminar SeatsSeats are limited to 10 for this Lunch-and-Brush Seminar. You will find it a great opportunity to learn a skill that you will use again and again. A second seminar will be scheduled if all seats for Oct 28th are sold. Seminar sign-up is by mail (checks payable to DASF) Please include the seminar receipt you have filled in with your contact information. Note 1/2 down deposit required and the remainder 30 days prior. There is a "NO-refund" policy.Click Here for the registration form to enclose with your check made payable to "DASF"
Mail your completed form and check to…Madonna Williams9469 Gladiolus Preserve CircleFort Myers, FL 33908